Adams Magnetic Products has the knowledge, understanding, and processes in place to fully comply with the Arms Export Control Act (AECA) and International Traffic in Arms Regulations (ITAR). We are your partner in fabricating magnets and magnetic assemblies for the defense and aerospace industries. As an ITAR registered supplier, you can be assured that your data and confidential information are safe with us. We are also your source for Defense Acquisition Regulations System (DFARS) compliant materials. Let our technical staff assist you in obtaining the right materials for your DoD and aerospace requirements.
Services you can count on from Adams Magnetic Products:
Our technical experts are ready to answer your questions and address your magnetic needs. Whether it's selecting a magnet for a particular application and environment, choosing the most cost-effective material, or reviewing options from what is available in the market, we are here to help with:
Application and design engineering assistance
Testing/analysis of magnetic materials
Magnetic circuit analysis/FEA
Value analysis/value engineering support
Inventory management programs
2D and 3D magnetic modeling of your design
Prototyping and validation
Ready to talk about your project?
We have experience with hundreds of aerospace magnet applications, including:
Sensors and Gauges
Generators
Fuel pumps and flow regulation
Rudder actuators
Electrical power generation
Microwave circulators
Added Value Assemblies
When you need magnet assemblies and permanent magnets that perform optimally over the long-term in the toughest conditions for aerospace, military, and defense applications, Adams delivers.  Let us employ our knowledge of the physical and mechanical properties of magnetic materials from the earliest stages of your design to suggest the most effective, lightest, and cost-effective options.
From the simple to the complex, our team of experts can evaluate your assembly process to determine outsourcing viability. We offer assemblies of ferrous and non-ferrous components, large to small, and everything in between. From our standard round base, channel, and sandwich assemblies to highly engineered and custom designs, Adams has the knowledge, expertise, and systems in place to meet even the most stringent of quality standards.
Permanent magnet materials used in aerospace and defense applications:
Samarium Cobalt is often used in aerospace & military applications due to its high working temperature of up to 350 ˚F.
Neodymium high-temperature grades are another good choice with a working temperature up to 230˚F.
Alnico has excellent temperature stability.
Ceramic material is highly corrosion resistant.
Need more information?
Magnetic Modeling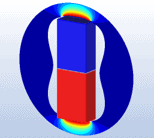 Adams uses the most up-to-date magnetic modeling software that can accurately predict the performance of virtually any type of magnet, magnet assembly, or electromagnet. It can predict magnetic fields from sensor magnets, pull forces from holding assemblies, torque from torque assemblies, and electromagnet performance.
Surface Protection: Coating Rare Earth Magnets
Corrosion-resistant coatings can be applied to magnets directly after production and cleaning, and prior to magnetization. Standard coatings include nickel, epoxy, and zinc spray coatings. Surface protection may also be applied to magnets in the finished product system. Contact Adams applications support to help you select the best coating for your application.
Magnet Fastening
Most magnets are assembled into magnet systems using adhesives. Such construction may require the adhesion of multiple magnets to one another or to support parts. But before doing so, several factors must be considered to assure the effective performance of the magnet, the adhesive, and the resulting bond. These include the chemical and physical properties of the magnets and the surfaces to which they are bonded. Detailed coverage of all these factors, along with some adhesives to try, is covered in our white paper Gluing Magnets.
---